Good Sunday morning everyone and a very happy Mother's Day to all you moms and mom-to-be!  I'm staying away from the obvious theme this week and instead am going in a different direction.
Why is it that we often need a wake up call in order to realize what's really important in life?  It's so easy to get trapped in our daily routines that life can whiz right by without us enjoying or appreciating it like we probably should.
Several months ago I wrote about our own wake up call that came in the form of Mandy's dad being diagnosed with a late stage, terminal pancreatic cancer. Since that time we've made more trips than ever back to our home state to visit family. In fact, Mandy has been there for the past week, and will remain down there for one more.
So while we don't get to spend Mother's Day with Mandy this year, she gets to spend the day with her father and there's nowhere else in the world I'd rather have her right now than with her dad.
So, with that context, today's round up is about some of my fellow personal finance bloggers that have gone through (or are currently going through) events in their lives that have helped reshape their focus and priorities.
** This isn't supposed to be a Debbie Downer post – I hope it has the exact opposite effect on you! **
The Best Personal Finance Articles of the Week (5/14/2017)
1. A BULL NAMED FU MANCHU

"The first wealth is health," right?  It's easy to pay lip service to that old adage, but it's hard to truly appreciate it unless you health is called into question.  Unfortunately, Amanda from Centsibly Rich is learning to appreciate it right now. What Would You Do If There Was No Tomorrow? gives us a peek into Amanda's health scare and does a great job of helping us remember that health is indeed greater than wealth.  And I love the Dalai Lama quote that she opens her post with!
2. TURNING THE TABLES



Have you ever wondered what happens when a doctor becomes the patient?  Neither had I, but this post from Julie, an ER Physician who also moonlights as a writer at Choose Better Life gives you a peek into that exact scenario in her post called Uncertainty: Am I Dying Or Am I A Fool?  When a diagnosis is uncertain and you may or may not get the news you don't want to hear, how do you prepare?
3. BE PREPARED

Liz, the Chief Mom Officer went through a gut wrenching period about five years ago when her husband nearly passed away.  She wrote about the experience in this post, Going Into Crisis Mode – When All Hell Breaks Loose.  Both she and her husband were young and healthy and totally unprepared prepared for what happened to them.  Not only has the experience made them appreciate each other more, but as you'll see in the post, it also changed their perspective on other things as well.
4. FINDING LIFE THROUGH DEATH

Warning: this post has been known to cause liquid discharge from the eyes of several readers. This beautifully written post by Mrs. Mad Money Monster is definitely a tear jerker, but she assures us it was actually a fun post for her to write.  Check out Lessons From My Father's Grave and see how the ending of one life was the beginning of another one.
5. HONORING LOVED ONES BY LIVING WELL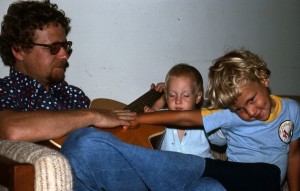 Pete Adney, a.k.a. Mr. Money Mustache lost his father earlier this year and wrote a beautiful tribute to him in this post titled Eulogy to Another Great Man.  No money advice.  No tips for some DIY project that will save you money while simultaneously building your skills and muscles.   Just a eulogy with an appeal to all readers: enjoy your life while you can.
Money is Just a Tool
Each of these posts that I've shared were written by personal finance bloggers that were speaking from the sincerest part of their souls.  Not a single post focused on money, or saving, or investing.  These posts were conceived and written based on a time when it was easy to see what's truly important in life.
And it isn't money.  Money is just a man-made tool, nothing more.  Yes, it's a very useful tool, but it's not everything.  So on this day that's supposed to be dedicated to the very best that humanity has to offer, our mothers, I'm trying to keep that in mind and remember what really matters to me: my family.
Happy Mother's Day to all of you!
Chime In!
I'm certain that I've missed other posts that could and should have been included here.  If you know of a post that would have fit in well here then please leave a link to it in the comment section so that we can all check it out!
Does your blog host leave you feeling blue?
SiteGround is the blogging world's best kept secret. Yeah, yeah everyone else uses that other company, but if your host leaves you feeling blue, why not switch to SiteGround? I made the switch because SiteGround is faster, safer, has better support – and plans start at just $3.95 per month! If you're looking for a better experience then check 'em out.